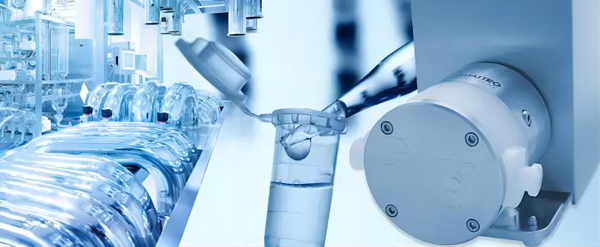 Peristaltic pumps offer the best solution for liquid filling in the biopharmaceutical industry. Especially the peristaltic pump has an advantage in micro-liquid transferring. The improved drive motor and calibration function make it more accurate and high precision.
What is the peristaltic pump?
Peristaltic pumps are a type of positive displacement pump. It adopts the principle of peristalsis as the basis of design. It is made of main three parts: the drive motor, the pump head and the tubes. The drive motor provides power that can match various types of pump heads. The pump heads and tubes are in charge of liquid transfer. And the rollers in a peristaltic pump head compress the tube as they rotate creating a vacuum while dreams fluid through the tube. When the next roller passes over the tube, the fluid was expelled. Cycle this process.


What are the advantages of a peristaltic pump for biopharmaceuticals?
The peristaltic pump eliminates cross-contamination and does not require cleaning because the tubing is the only product-contact part. You just need to change the tube. So peristaltic pumps are popular in the aseptic delivery of pharmacy fluid by providing high purity and accurate measurements.
Another advantage is easy to repair and free maintenance of the peristaltic pump. The flexible hose is the only component to receive wear and tear. It is very simple to change the tube and also can be repeated use.
Stable flow and flow rate control are other advantages of a peristaltic pump. The stable flow ensures the high precision of the microfluid. The flow rate control can meet different requirements from 0.1 to 50 gallons. And the flow direction is reversible, which is good for dialysis.
Finally, most biological drugs are shear-sensitive. But the peristaltic pump can protect them by applying low pressure and providing gentle handling.
Peristaltic pumps applied to biopharmaceuticals
The peristaltic pumps can be applied to the drug synthesis and material transfer.
- Aseptic delivery of pharmacy fluids
-Precisely control the feeding speed, dosing amount and ratio of synthetic
-Separation and purification
-Rapid delivery and packaging for formulations
How to select the peristaltic pumps?
When you want to select the peristaltic pump, please ensure the fluid description and viscosity. Chonry peristaltic pump manufacturer has 15 years experience with high technology certification.We are professional in peristaltic pumps and fluids filling system.If you are interested in peristaltic pump. Please feel free to contact us.