High volume peristaltic pump BG600-S is a digital industrial peristaltic pump with a max flowrate of 12000ml/min, this pump usually used with YZ35 and YZ35-13 pump head, as a large peristaltic pump, can transmit viscous liquids, it's the first choice for industrial production.
Four-digit LED displays the current speed or flow rate, with higher flow accuracy, long life, knob control, and simple operation.
This pump is widely used for sewage treatment, gem grinding, mining flotation, distillation extraction, etc.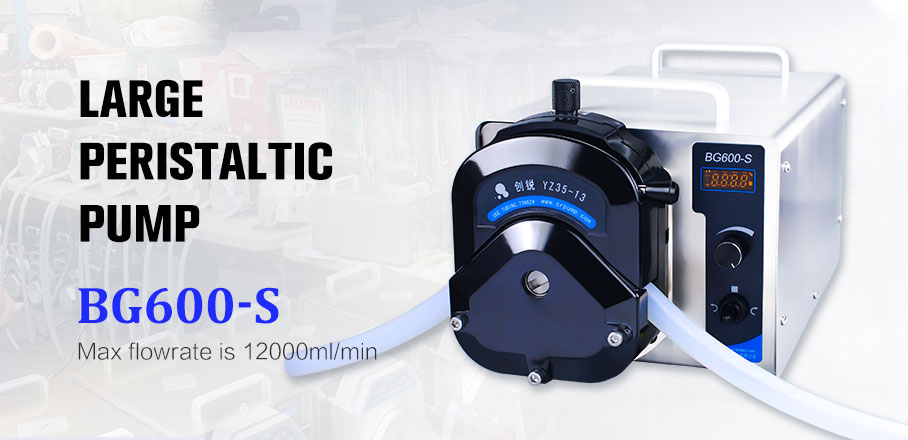 Peristaltic Liquid Pump Display

Rotary encoded switch control speed

AC220V±10%(standard) or AC110V±10%(optional)

Start & stop, direction control, speed control( 0-5v, 0-10v, 4-20mA optional

)
· Storage function, external control function, power off memory, calibration function, full speed function, Suckback function.
·Multiple external control mode selection: support RS485 / MODBUS communication protocol, analog control (0-5V,0-10V,4-20mA...) foot switch control, provide customized communication protocol services.
· Data will be stored in time after power off. When power supply is restored, the pump can remember the parameter Settings before power off, which is more safe and reliable.
· One button to control full speed operation, used for quick cleaning, filling and emptying tubes, etc
.
·The pump can be customized after the shutdown reverse operation speed and Angle, To keep the liquid from dripping
.
·4-LED display.
·Flexible control mode: rotary encoded knob and external control mode, convenient for users to choose to use.
·The pump adopts Two-way high-torque motor, it can install a variety of pump heads: YZ 35series, KZ series, according to the customer's actual application, multiple pump heads can be connected in series to meet different flow requirements.