BT600FC is a touch screen peristaltic pump specially used for filling, with 3.5 inch touch screen which is easy operate and intelligent. It is very suitable for vial filling, can fill many kinds of liquid. The max flow rate is 2280ml/min. Can use multi pump heads such as YZ1515x, YZ2515x, TX315 and so on.
As a filling peristaltic pump, BT600FC Normally used in the fields such as Pharmaceutical filling peristaltic pump, Food filling pump, University laboratory, Water treatment pump , Cosmetic filling pump , Beverage filling pump, etc.
It is one of the most hot-selling models of CRPUMP, because there are many advantages such as the accuracy, handiness,easy-clean,ergonomic working, etc.
Except control it by the button, also support external control such as 0-5v, 0-10v,4-20mA, etc. Customers also can control the peristaltic pump by foot pedal. Support RS485 or RS232, just tell us which you want. There are professional R&D team which can customize according to customers' requirement.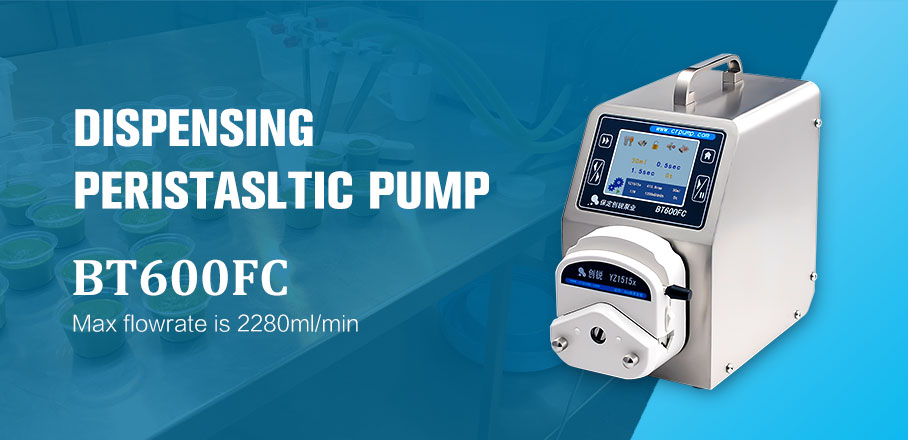 FC Intelligent dispensing peristaltic pumps on function is powerful:
·Storage function-user data storage function:(9 sets of filling data) . The original filling data can be quickly found by entering the storage interface with one key.
·External control function-Multiple mode selection: communication mode, analog mode,foot switch control.Provide customized services.
·Memory function-data will be stored in time after power off. When power supply is restored, the pump can remember the parameter Settings before power off, which is more safe and reliable.
·Calibration function-intelligent flow calibration: after setting the target flow, input the actual flow value,and the system will automatically carry out flow calibration to ensure the flow accuracy
·Full speed function-one button to control full speed operation, used for quick cleaning, filling and emptying tubes, etc
·Suckback function-By setting Suckback angle and Suckback speed to prevent liquid dripping and ensure fluid accuracy.
·Lock screen function-lock screen design, error proof touch, application more secure.
·Display function-real-time animation of the operation interface shows the running state and working parameter.
·Touch-screen function-3.5-inch color LCD screen, (English and Chinese optional) , touch-screen operation,intuitive and intelligent.
Drive model
BT100FC
BT300FC
BT600FC
Speed range

0.1~100rpm(reversible)

0.1~300rpm(reversible)

0.1~600rpm(reversible)

speed resolution

0.1rpm

Flow range

0.0015~380ml/min

0.007~1140ml/min

0.007~2280ml/min

Filling Accuracy

<±0.5%

Flow calibration

Yes

Control Method

Touch screen + keypad(Support external signal control and communication control)

Display Mode

LCD(English and Chinese optional)

Filling volume range

0.01-9999ml

copy number range

0~9999t "0" is infinite loop

Filling time range

0.1s~9999min

Pause Time range

0.1s~9999min

Suckback angle

10°~720° (1° Stepping)

Suckback speed

10~100rpm

10~300rpm

Power supply

AC220V±10%(standard) or AC110V±10%(optional)

Power consumption

<22W

<35W

<50W

Environment Temperature

0~40℃

Relatively Humidity

<80%, No condensation

Drive size

212×139×240(mm)

Drive weight

3.98kg

4.3kg

4.8kg

Motor type

Stepper motor

IP grade

IP31

Working mode

Filling mode, Transmission mode

Speed status signal output

0-10kHz linear corresponds to 0-600rpm(Max speed)

Rev. Stop status signal output

switching value signal output

Direction status signal output

switching value signal output

External control interface

DB-15

External control

Control Rev. Stop,Direction,Speed.-Support RS485/MODBUS communication protocol , analog quantity control (0-5V 0-10V 4-20mA ...)foot switch control.
Multiple control mode:Flexible control mode: with touch screen, key and external control mode, convenient for users to choose to use;
Multiple pump heads:The pump can install a variety of pump heads: YZ series, BZ series, can be in series to meet different flow requirements;
Double working mode:Transmission mode+filling mode; one-button switching of transmission and filling operation interface, making transmission and filling smarter and more convenient.
Suitable pump head & Flow reference (ml/min)

Pump head

YZ1515x

ZN15

YZ2515x

ZN25

DG1~12(6)

DG1~12(10)

Tube

13/14/19/16/25/17/18#

15#,24#

0.5*0.8,1*1,2*1,2.4*0.8,3*1

BT100FC

0.007~380

0.17~290

0.002~36

0.0015~27

BT300FC

0.007~1140

0.17~870

_

_

BT600FC

0.007~2280

0.17~1740

_
_